PayPal Pay in 4 Review: What To Know About This 'Buy Now, Pay Later' Option
GOBankingRates Score
4.3
Our take:
Pay in 4 is PayPal's version of a
Pay in 4 is PayPal's version of a "buy now, pay later" plan that lets you split the purchase amount into four payments and pay over time. You can buy from millions of online stores that use PayPal and get an instant approval decision. All payments are interest-free, and the purchase is backed by the security and safety of PayPal.
Fees

5.0

Availability

4.0

Repayment Flexibility

4.0

Purchase Size

4.0
How did we calculate this?
Pros
You can split purchases into smaller payments and pay over time.
Millions of online stores accept PayPal payments.
You can get an instant approval decision.
There are no fees for paying with the service, and payments are interest-free.
Cons
Not available for larger purchases greater than $1,500
Only available at merchants that accept PayPal
Limited repayment plan options compared with competitors
What Is PayPal Pay in 4?
PayPal Pay in 4 is a payment option that lets you split your purchase into four payments. You pay a down payment at the time of sale and the three remaining payments every two weeks.
How Does Pay in 4 Work?
To use PayPal's Pay in 4 option, the seller must support paying via PayPal. That means you can use this option at millions of online stores that support PayPal.
When you check out, choose PayPal and select the "Pay Later" option. That will let you pick the "Pay in 4" way to pay. You will be given a link to view the loan agreement to review and agree to before submitting your application. You'll also get an email from PayPal with the details of your plan once the purchase is completed.
When you attempt to check out, PayPal will automatically make an approval decision in seconds so you can complete your purchase right away.
When you complete your purchase, you'll have to pay the first payment as a down payment. The rest of the purchase amount is split into three interest-free payments due every two weeks. You can easily manage and make payments either online or via the PayPal app, available on iOS and Android.
If you are declined for the plan, you can still use PayPal to pay; you'll just need to pick a different payment method from your wallet. PayPal will also send you an email stating the reason you were declined.
Does Pay in 4 Charge Fees?
There are no fees to use Pay in 4. Payments are interest-free. However, PayPal may charge a late fee if you are late with a payment, depending on your state of residence.
Does Pay in 4 Affect Your Credit Score?
Using PayPal's Pay in 4 plan does not impact your credit score. PayPal may perform a soft check on your credit when you apply, but this will not affect your score.
A soft credit check gives the lender the ability to review your credit report and determine creditworthiness. While these soft checks don't affect your credit score, they are listed on your credit report.
Who Can Use Pay in 4 and What Purchases Are Eligible?
PayPal is offering the Pay in 4 plan to a growing number of U.S. customers. There are a few eligibility requirements:
Availability depends on your state.
You must be at least 18 years of age.
Your PayPal account must be open and in good standing.
Currently, PayPal offers Pay in 4 in all states except New Mexico, North Dakota, South Dakota, Missouri, Wisconsin and the U.S. territories.
However, not everyone gets approved depending on PayPal's internal checks and the soft check of your credit score.
You can use Pay in 4 at merchants that accept PayPal payments in any supported currency. However, PayPal will automatically convert the purchase amount into U.S. dollars during the checkout process.
There are also purchase amount limits for Pay in 4; you can only use this payment method for transaction amounts between $30 and $1,500.
PayPal doesn't allow Pay in 4 for some merchants and some items, but it's unclear which are not allowed. PayPal does, however, have a list of restricted activities that you may wish to consult.
Can You Pay Off a Pay in 4 Plan Early?
When you start a Pay in 4 plan, you pay the first payment at the time of purchase. To see your remaining payments, you can log in to the website or PayPal app.
From there, you can make an extra payment or choose to pay off the entire plan early. There are no penalties or additional fees to pay it off early.
Any extra payments are applied and displayed in your plan activity immediately.
PayPal Pay in 4 vs. Competitors
More and more companies are offering buy now, pay later plans, so PayPal isn't the only option out there. Here are a few competitors to be aware of.
Klarna
Klarna was founded in 2005 in Sweden and also offers a Pay in 4 plan. Like PayPal, you can pay for your purchase with four interest-free payments over time. Klarna also has a longer-term offering of up to 36 months financing. You can use Klarna online or in-store with any supported Klarna store.
Sezzle
Like the others, Sezzle also offers a four-payment plan. As long as you make your payments on time, there are no fees, and payments are interest-free. Sezzle is currently accepted at more than 34,000 online stores. Unlike PayPal, Sezzle does not have fixed credit limits. Sezzle evaluates your limit with every purchase based on a soft credit check, order history with the service, how long you've been a customer and a few other factors.
Affirm
Affirm offers a buy now, pay later loan with an interest rate depending on your credit. Your rate will be 0% APR or between 10% and 30% APR. Affirm loans are provided by its lending partners. The purchase limit for Affirm is $17,500, and a down payment may be required.
Takeaways on PayPal Pay in 4
PayPal's Pay in 4 feature is an excellent option if you want to make a large purchase more affordable by paying it over time. It only works if the merchant accepts PayPal, but millions of online stores do. You'll enjoy interest-free payments every two weeks, and you can pay it off early if you choose.
Keep in Mind

Buy now, pay later plans are exploding in popularity. Still, analysts warn about increasing debt and credit card balances, especially for younger consumers. Always be sure that you can afford the payments before you purchase.
About the Author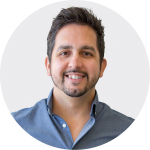 Scott Jeffries
Scott Jeffries is a seasoned technology professional based in Florida. He writes on the topics of business, technology, digital marketing and personal finance.
After earning his bachelor's in Management Information Systems with a minor in Business, Scott spent 15 years working in technology. He's helped startups to Fortune 100 companies bring software products to life. When he's not writing or building software, Scott can be found reading or spending time outside with his kids.